By David Swedelson, Partner at SwedelsonGottlieb, Community Association Attorneys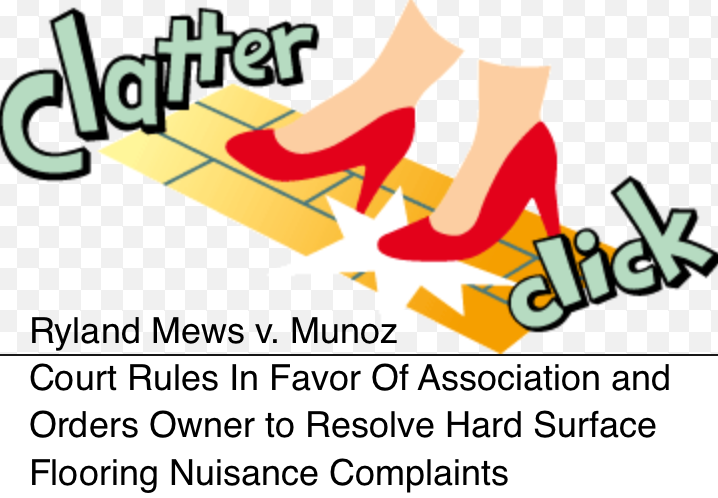 Many homeowners want hard surface flooring instead of carpet. And they will often present a prescription from their doctor for a hard wood floor in an effort to get around their association's restrictions or prohibitions on hard surface flooring. Yes, a prescription for a hard wood floor on a doctor's prescription form. But anyone that works with condos knows that hard surface flooring may create nuisance problems for the downstairs neighbor. And when the downstairs neighbor complains to the board about the hard surface floor that was not approved and violates the CC&Rs, the board is sometimes reluctant to take legal action thinking that a court is not going to rule in its favor. The California Court of Appeal debunked that thinking in the case of Ryland Mews v. Munoz upholding a California condominium association's ability to limit hard surface flooring in response to nuisance complaints.
The story in the Ryland Mews case is all too familiar. Munoz moved into their upstairs unit at Ryland Mews and replaced the carpets with hardwood floors allegedly to accommodate the wife's severe dust allergy. And it was not to soon after that when the downstairs neighbors complained about the additional noise they were now hearing.
When the association's manager wrote to Munoz regarding the complaints and the fact that the alteration of the flooring was made without prior approval of the association, Munoz did not respond within the 30 days Management had given them. Management wrote to Munoz again, this time requesting Alternative Dispute Resolution (ADR) under the Davis-Stirling Act. Munoz still did not respond to the Association's Request for Resolution.
Continue reading