By David Swedelson, Senior Partner at Swedelson & Gottlieb, California Community Association Attorneys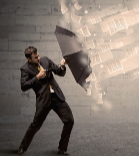 We are often asked how much insurance a condo or coop association should carry. I often respond by saying as much as the association can afford. Here is a great example of a situation involving one of our firms clients (the facts have been altered to maintain confidentiality). A woman was trying to get into a condo association and the parking arm was stuck. She and her entourage were physically trying to get the arm to move when it dropped hitting her in the leg. It hit an artery and she almost died. She suffered some permanent disabilities and then she sued the association.
Turns out the association knew about the problem and its maintenance guy had been fiddling with the equipment to get it to work. Long story short, there was little question that the association was negligent and the association's insurance carrier paid out almost 3 million to settle the claim just before trial was supposed to start. The association had a $2 million general liability policy. Fortunately, the association also had a $1 million umbrella policy and with that additional money was able to settle a claim that had the potential for damages that could have exceed the association's insurance coverage. This is just one of many other examples.
So, what is an umbrella policy?
Continue reading