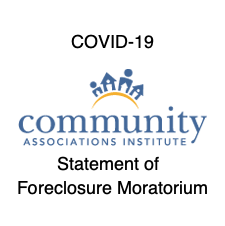 Earlier this month, CAI released a Statement of Moratorium on Foreclosure Actions urging community associations to immediately suspend all foreclosure activity and not begin new foreclosure actions until June 1. We question how well thought out this position is as it is not all that realistic for California community associations.
Do not get this wrong. We at SwedelsonGottlieb are well aware of the impact that COVID-19 has had on our world and the fact that over 10,000,000 people filed for unemployment nationwide (so far). We recognize that community association boards are going to need to be sensitive to the fact that many owners may be temporarily (hopefully) unemployed and not able to timely pay their assessments.
As CAI said in its introduction to the Statement of Moratorium, the collection of community association assessments is a very serious and important responsibility of a governing board. Failing to collect assessments may impair a community association's ability to pays its bills, provide essential services, acquire financing for continued operations, and may impact the ability of a potential purchaser to obtain a mortgage or impact existing owners refinancing of their loans.