From the Community Association Attorneys at SwedelsonGottlieb.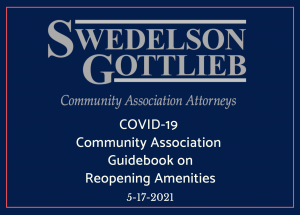 Most California community association common area recreational amenities like pools, gyms, and tennis courts remain closed since March 2020, even though some restrictions have lifted. As the number of people who have been vaccinated increases, schools reopen, the state reopens, and more counties are opening throughout California, many associations wonder if it is time to revisit opening their amenities.
Does your community association have a plan? Does your community association need one? The answer is YES! In fact, it is required.