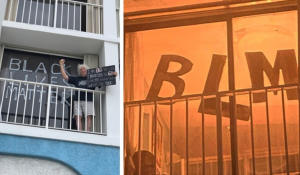 By David Swedelson, Community Association Attorney at SwedelsonGottlieb
Interesting story out of Florida About an 86-year-old owner who wanted to do something to show his support for the black lives matter movement. He wanted to stand in solidarity with those that are protesting to protect black lives, so, with the help of his granddaughter, he wrote out "Black Lives Matter" in chalk paint on the sliding glass door that leads to the balcony of his condo. His neighbors confronted him and also complained to management, and the association's manager told him to remove the sign.
This owner was not deterred and he wanted to figure out a way to get what he felt was an important message across, so he and his granddaughter took the paint off the window and replaced it with cardboard cut-outs that spell out "BLM." They hung the letters from the door on the inside of the condo using fishing wire — a display that could be considered interior art.