By David Swedelson, Senior Partner at SwedelsonGottlieb, Community Association Attorneys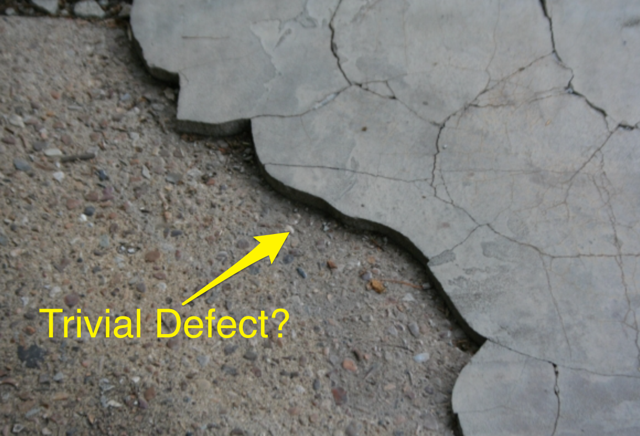 I recently assisted a large condominium association in dealing with a claim by an owner that she had fallen and injured herself after tripping on a common area walkway. Management looked at the area where this woman claimed to have fallen, and all they could find was a slightly raised area of concrete – a trivial defect. It reminded me of a 2011 Court of Appeal decision in the case of Cadam v. Somerset Gardens Townhouse HOA involving a 63-year-old woman who was injured when she fell after tripping on a separation in a concrete walkway next to the townhome she was leasing.
In that case, Cadam filed an action against the homeowner's association and its management company claiming causes of action for premises liability and negligence. She alleged that the walkway had shifted and adjacent sections had separated such that they differed in height by three-fourths to seven-eighths of an inch, creating a dangerous condition.
Following a jury verdict in favor of the injured resident, the trial court granted the association's motion for judgment notwithstanding the verdict (meaning that despite what the jury found, the judge felt that the evidence was not sufficient to justify the jury's decision and set it aside). And the judge did this despite the fact that the association's president had testified that a defect of one-half inch or more is "probably" dangerous. The court found that no reasonable person could find that the condition was not a trivial defect under the circumstances.

The Court of Appeal affirmed the trial court's decision, holding that "[a] trivial defect is no less trivial when it exists on a walkway in a privately owned townhome development." The court made the following comments and references to case law:
"It is well settled that a property owner is not liable for damages caused by a minor, trivial, or insignificant defect in his property. (Caloroso v. Hathaway (2004) 122 Cal.App.4th 922, 927, 19 Cal.Rptr.3d 254 [sidewalk crack less than one-half inch in depth].) This principle is sometimes referred to as the "trivial defect defense," although it is not an affirmative defense but rather an aspect of duty that plaintiff must plead and prove. (Ibid.) Persons who maintain walkways-whether public or private-are not required to maintain them in absolutely perfect condition. (Ibid.) "The duty of care imposed on a property owner, even one with actual notice, does not require the repair of minor defects." (Ursino v. Big Boy Restaurants, supra, 192 Cal.App.3d 394, 398, 237 Cal.Rptr. 413.) The rule is no less applicable in a privately owned townhome development. Moreover, what constitutes a minor defect may be a question of law. . . In our de novo review of the evidence, the walkway defect here was trivial as a matter of law. (Stathoulis v. City of Montebello, supra, 164 Cal.App.4th 559, 569, 78 Cal.Rptr.3d 910 [court properly may determine whether defect is trivial if evidence is not in conflict].) The parties agreed that the walkway separation was three-fourths to seven-eighths inch in depth. Cadam testified that the accident occurred at noon on a sunny day. Cadam's photographs of the separation do not reflect a jagged separation, shadows, or debris obscuring the separation. (Caloroso v. Hathaway, supra, 122 Cal.App.4th 922, 927, 19 Cal.Rptr.3d 254 [court should consider whether walkway had broken pieces, jagged edges, debris or water concealing the defect, and the lighting of the area, among other things].) There were no protrusions from the separation and other persons had not fallen there. The crack in the sidewalk does not appear to be on a slant as Cadam's counsel suggests. The walkway was newly constructed and the view of the separation was not obstructed. Moreover, Cadam testified that she did not see the separation because she "wasn't looking at [it]." Nor does she show where on the sidewalk she fell. . . The opinion of Somerset's president that a defect of one-half inch or more is "probably" dangerous does not preclude our conclusion that the defect on which Cadam stumbled is trivial. (Fielder v. City of Glendale, supra, 71 Cal.App.3d 719, 732, 139 Cal.Rptr. 876 ["For in this area there is no need for expert opinion"].) "It is well within the common knowledge of lay judges and jurors just what type of a defect in a sidewalk is dangerous." (Ibid.) Moreover, the duty of care imposed on a property owner, even one with actual notice of a defect, does not require the repair of minor or trivial defects."
So, not all defects that cause injury are actionable. But when in doubt, eliminate the defect.
David Swedelson is a condo lawyer and HOA attorney. David can be contacted via email: dcs@sghoalaw.com