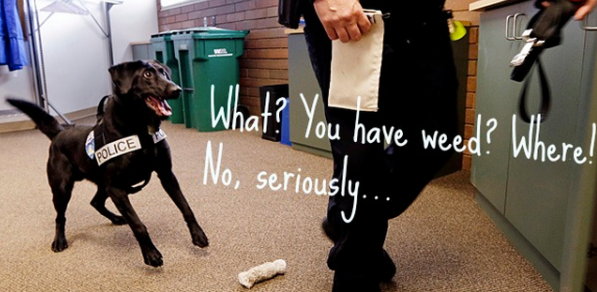 If you live in a condo in North Dakota and are into illegal drugs, be advised that it is OK for the police to bring drug-sniffing dogs into your association's common area without a warrant, according to the North Dakota Supreme Court (follow this link to read the full opinion).
As summarized by a newspaper article, the North Dakota Supreme Court made this the law in their posted opinion that rejected an appeal by a West Fargo man who "was arrested for possession of marijuana with intent to deliver after police brought Disco the dog into a common hallway that [he] shared with another resident in the condo. Police say they received a tip that pot was being sold out of the residence." Although not made clear in the article, the dog alerted its handlers to the presence of drugs behind the condominium door, and the officers obtained a warrant before searching the condominium.
The trial judge denied a motion to exclude the evidence that argued that it was an unreasonable search and seizure. "The Fargo lawyer had argued that the hallway in the condo should be considered curtilage, or part of the home, and that gave Williams an expectation of privacy." The ND Supreme Court stated in its 5-0 ruling that the common areas of a multi-family dwelling are not protected by the Constitution, and the search was legal, stating that ". . .we conclude the condominium building's common hallway was not curtilage, and [the resident] had no expectation that the shared space would be free from any intrusion".