By David Swedelson, Senior Partner at Swedelson & Gottlieb, California Community Association Attorneys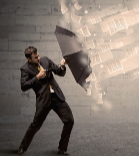 We are often asked how much insurance a condo or coop association should carry. I often respond by saying as much as the association can afford. Here is a great example of a situation involving one of our firms clients (the facts have been altered to maintain confidentiality). A woman was trying to get into a condo association and the parking arm was stuck. She and her entourage were physically trying to get the arm to move when it dropped hitting her in the leg. It hit an artery and she almost died. She suffered some permanent disabilities and then she sued the association.
Turns out the association knew about the problem and its maintenance guy had been fiddling with the equipment to get it to work. Long story short, there was little question that the association was negligent and the association's insurance carrier paid out almost 3 million to settle the claim just before trial was supposed to start. The association had a $2 million general liability policy. Fortunately, the association also had a $1 million umbrella policy and with that additional money was able to settle a claim that had the potential for damages that could have exceed the association's insurance coverage. This is just one of many other examples.
So, what is an umbrella policy?

Follow this link to read an article from a New York insurance agency that explains that commercial umbrella insurance is insurance that provides liability coverage over and above the limits of your existing policies. According to the article, it's not a legal requirement, but the benefits of having it are substantial. What follows are some of the highlights.
According to the article by New York insurance broker Mackoul & Associates, commercial umbrella insurance can help protect your condo or co-op association in a range of scenarios. The article provides two examples of real life scenarios (pulled from data provided by LexisNexis) where commercial umbrella insurance coverage was needed.
• A man suffered severe burns from hot water as a child when his landlord failed to install a proper hot water system. He was awarded $9,469,609.
• A man suffered severe head injuries following being assaulted in the lobby of his building by alleged negligent security. He was awarded $2,300,000.
According to the Mackoul article, commercial umbrella insurance covers catastrophic situations where liability claims exceed the limits of your existing policies. If, for example, your condo association has a $1 million liability limit on your general liability Insurance and a $10 million liability limit on your commercial umbrella insurance, your general liability insurer will cover the first $1 million of a claim and your commercial umbrella insurer will cover an additional $10 million.
Without commercial umbrella insurance, your association would have to specially assess the owners to cover legal fees or judgments that exceed policy limits.
"Your existing insurance policies will go a long way towards protecting you against most liability judgments, but when unexpected catastrophes arise, a commercial umbrella insurance policy will help ensure your condo or co-op association isn't affected by high-value claims."
David Swedelson is a condo lawyer and HOA attorney, a community association legal expert. David can be reached via email: dcs@sghoalaw.com