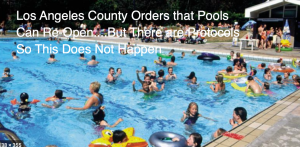 From the attorneys at SwedelsonGottlieb, Community Association Attorneys
At the same time as the State announced that California has become the fourth state in the country to surpass 100,000 coronavirus infections and that 100,000 people have died in the United States from COVID-19, Los Angeles County issued a new order allowing for community association pools to reopen so long as certain protocols are followed. The new LA County Order does not mandate that associations open their pool(s). The association's owners and residents will likely make a demand on the board to reopen the pool; what's a board to do?
The first thing is to acknowledge that compliance with the new Order will not be easy. Some associations may opt not to open or not open until the association is able to administer the required protocols. These protocols are important. Let us not forget that LA County is still considered a coronavirus "hotspot" and that means that we must all do our part to stop the spread of the coronavirus. The news is filled with stories of people in California crowding certain recreation areas, pools, restaurants and beaches and not wearing masks and how these conditions have led to outbreaks in other states. Community association boards that decide to open pools, must follow the mandatory LA County protocols. In addition, they must make sure that residents comply.
Follow this link to read the new Order/protocol that the County issued for opening the pool(s). This protocol must be adhered to at all times and provides specific guidance/restrictions/limitations on reopening and use of the pools, including the deck area.