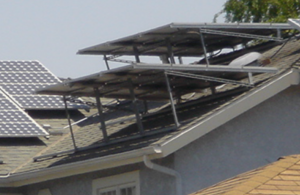 According to CAI's California Legislative Action Committee, there is still time to stop AB 634, a bill that impacts a condominium association's ability to control the placement of solar panels in common interest developments. BUT YOU MUST ACT TODAY BEFORE THE GOVERNOR SIGNS THIS BILL INTO LAW.
CAI reports that "AB 634 has passed the state legislature and, if signed by the Governor, will eliminate local association-approved rules and replace them with statewide mandates that allow a single homeowner to monopolize a common area roof with solar panels for their sole benefit."
It also allows the installation of panels without regard for their impact on our community's architectural guidelines, suitability for that particular building or roof, or any adequate protections from property or water damage.
PLEASE click here to easily email Governor Brown and ask him to VETO this bill that will hurt all of those living in our communities!
Below is SwedelsonGottlieb's letter to the Governor: