By David Swedelson, Senior Partner and Community Association Attorney at SwedelsonGottlieb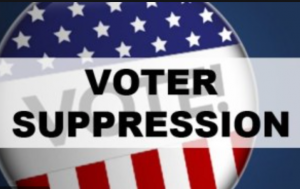 I first heard about voter suppression in law school, where I learned that the United States has a long tradition of threatening voter access. I thought it was a thing of the past. But I have been surprised by recent news stories that tell us that there are real efforts in 2020 to make it harder for some Americans to vote. For example, a Memphis, Tenn., poll worker turned away people wearing Black Lives Matter T-shirts, saying they couldn't vote. Robocalls warned thousands of Michigan residents that mail-in voting could put their personal information in the hands of debt collectors and police. In Georgia, officials cut polling places by nearly 10%, even as the number of voters surged by nearly 2 million.
Simply stated, voter and candidate suppression is a strategy used to influence an election's outcome by discouraging or preventing specific groups of people from running as a candidate in an election or voting. Unlike political campaigning, which attempts to change voting behavior through persuasion and organization, activating inactive voters, or registering new supporters; voter suppression attempts to reduce the number of voters who might vote against a candidate or proposition. The tactics of voter suppression range from minor changes to make voting less convenient, physical intimidation, and even physical attacks on prospective voters, which is illegal.
Apparently, voter suppression is not limited to state or national elections. Consider last year's Senate Bill 323, which impacts all community associations by requiring the adoption of new election rules and a 90-day waiting period thereafter before it is legal for an association to hold its elections. It seems clear that the California legislature was motivated to change the law on how community associations conduct elections to address constituent reports that association boards and managers were manipulating the election process to suppress voting and nominations. We do not know this to be true, but the way California community associations handle elections now is different, more expensive, and time-consuming.
Consider, for example, the fact that many associations' governing documents allowed for the suspension of member's ability to vote in an election if they are in violation of the governing documents or delinquent in the payment of assessments. SB 323 required that associations provide ballots to all members, even those who could have previously been deemed ineligible to vote. Corporations Code 7341 allows corporations to suspend a member's voting rights. SB 323 eliminates this as an option for community associations because the legislature apparently felt that it prevented some owners from being able to run for the board for reasons that were not approrpiate.
And SB 323 also dealt with what the legislature felt was candidate suppression. It changed the Civil Code to prohibit Associations from adopting some qualifications on who can run or serve on the board. While SB 323 allows for the disqualification of board nominations from non-members (some older community association's Governing Documents do not require that directors also be members), it does not allow for association's to prohibit members who are delinquent in their assessments to run for the board so long as they have requested and agreed to an approved association payment plan or have paid their assessments under protest, or have yet to have the opportunity to participate in IDR. Some associations amended their bylaws to disqualify any member that is suing their association from serving on the board; now that and other types of disqualification are no longer be enforceable under this new law.
And to deal with what the California legislature felt was ballot or voter suppression, SB 323's changes the law on elections to prohibit association managers and others "under contract" with the association from acting as the inspector of election. Apparently, the legislature does not trust managers to accurately count the ballots and believes that they may be inclined to reject ballots that do not support the board that hired the manager.
We do not know if inappropriate voter or candidate suppression is a real thing in California community associations. But apparently, it is a real thing nationally and something the California legislature felt needed addressing.
So, did your California community association adopt new Election Rules that comply with SB 323? If not, you need to talk to your association's legal counsel.
David Swedelson is a senior partner at SwedelsonGottlieb and oversees the firm's litigation team. David can be contacted via email at dcs@sghoalaw.com.