From the Community Association Attorneys at SwedelsonGottlieb.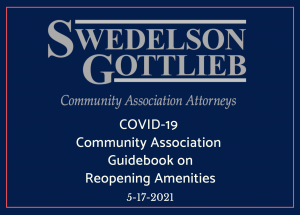 Most California community association common area recreational amenities like pools, gyms, and tennis courts remain closed since March 2020, even though some restrictions have lifted. As the number of people who have been vaccinated increases, schools reopen, the state reopens, and more counties are opening throughout California, many associations wonder if it is time to revisit opening their amenities.
Does your community association have a plan? Does your community association need one? The answer is YES! In fact, it is required.
On June 15th, Governor Newsom plans to fully open the economy across the state if there are enough vaccines for everyone 16 years of age or older to get vaccinated and hospitalizations remain stabilized and low, especially among vaccinated residents. This date could be postponed if the requirements aren't met. But the plan at this point is to remove the COVID-19 restrictions.
In this latest edition of SwedelsonGottlieb's COVID-19 Guidebook (follow the link), we discuss what full reopening means and address considerations for California community associations to make when developing plans to reopen amenities within their community.