From the Community Association Attorneys at SwedelsonGottlieb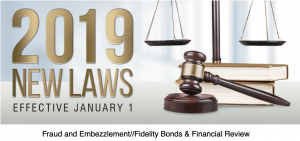 It is no secret that community associations are often targets for embezzlement. But they are not alone. Newspaper articles tell us that it happens to various types of businesses and organizations, even attorneys and lawyer/bar organizations. Fraud and embezzlement seems more likely to occur when no one is watching those that control the checkbooks. And unfortunately, many many condominium, stock cooperative and planned development boards of directors become too trusting and they don't keep an eye on what their manager or treasurer are doing.
To ensure that community associations are better protected, the California legislature passed AB 2912, acknowledging that associations are susceptible to fraud and embezzlement, and that more is needed to completely achieve the goal of protecting community association funds. Pay close attention as there are new requirements for both managers and boards amending two sections of Civil Code and adding three new ones. AB 2912 made the following changes to the law:
• Amends Civil Code §5380 (Management of Association Funds):
Prohibits managing agents from making transfers greater than $10,000 or 5% of the association's total combined reserve and operation account deposits (whichever is lower) without the prior written authorization of the board.
• Amends Civil Code §5500 (Monthly Financial Review by Board):
Boards are now required to perform reviews of financial statements on a monthly, as opposed to quarterly basis (unless—as before—governing documents impose more stringent standards).
Also, in addition to other documents, board are now required to review the check register, monthly general ledger, and delinquent assessment receivable reports on a monthly basis.
• Adds Civil Code §5501 (Satisfaction of Review Requirements):
The review requirements of §5500 may be met when every individual member of the board, or a subcommittee of the board consisting of the treasurer and at least one other board member, reviews the documents and statements described in §5500 independent of a board meeting, so long as the review is ratified at the board meeting subsequent to the review and that ratification is reflected in the minutes of that meeting.
• Adds Civil Code §5502 (Transfers Requiring Board Approval)
Transfers of greater than ten thousand dollars ($10,000) or 5 percent of an association's total combined reserve and operating account deposits, whichever is lower, shall not be authorized from the association's reserve or operating accounts without prior written board approval.
• Add Civil Code §5806 (Fidelity Bond Coverage Requirements)
Unless the governing documents require greater coverage amounts, associations are now required to maintain fidelity bond coverage for its directors, officers, and employees in an amount that is equal to or more than the combined amount of the reserves of the association and total assessments for three months. The association's fidelity bond shall also include computer fraud and funds transfer fraud. If the association uses a managing agent or management company, the association's fidelity bond coverage shall additionally include dishonest acts by that person or entity and its employees.