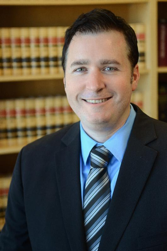 SwedelsonGottlieb, California Community Association Attorneys, proudly announces Alex Noland's elevation to partner in the firm. Alex has been the senior attorney in the San Francisco office of SwedelsonGottlieb since 2011, and he has been with the firm since 2008. He is a key member of the firm and a leader in California's community association industry.

Alex's law practice with SwedelsonGottlieb is focused on transactional matters, including advising the firm's community association clients on addressing association governance, the negotiation and preparation of contracts, amending and restating governing documents, rule drafting and enforcement, developer transitions, complex cost sharing, easement and parking agreements, and various business and legal issues. He is skilled in the representation of both residential associations and commercial/industrial associations, as well as mixed-use projects. Although Alex is primarily in the firm's San Francisco office, he is still working with many Southern California community associations and is in the Los Angeles office at least one week each month.

Alex is a current member of the Board of Directors and the Education Committee of the Bay Area and Central California Chapter of the Community Associations Institute (CAI), and he is a former co-chair of the Programs Committee of the Orange County Regional Chapter of CAI. Alex also serves as a member of the faculty and the Legal Advisory Steering Committee of the California Association of Community Managers, and he is an active member of the Educational Community for Homeowners.
Alex can be reached via email: an@sghoalaw.com