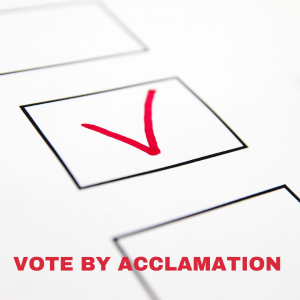 California community association attorneys, managers and others in the industry have differing opinions on how to properly and legally proceed with uncontested elections — elections in which the number of candidates is less than or equal to the number of board positions needed to be filled.  Prior to 2020 when the election process and procedures were changed, the civil code did not expressly address voting by acclamation. Since 2020, the law has changed, permitting a vote by acclamation in narrow circumstances. Specifically, if an association is over six thousand units. We have heard that some attorneys are telling clients that they can still hold a vote by acclamation if their association has less than 6,000 units. We disagree.
The California Civil Code requires, despite contrary provisions in an association's governing documents or election rules, that all board member elections, including uncontested elections other than for associations that are 6,000 units or more, be conducted utilizing secret balloting.  Associations must abide by these statutory requirements, including holding an election meeting and counting the ballots even if the number of candidates running is equal to or less than the number of board positions to be filled.
The primary, and perhaps most legally sound reason for abiding by formal procedure requirements is the language found in CA Civil Code 5100, which states that "(n)otwithstanding any other law or provision of the governing documents, elections regarding…election and removal of members of the association board of directors….shall be held by secret ballot in accordance with the procedures set forth in this section." Surprisingly, however, not all community association attorneys agree that the word "shall" is mandatory, requiring that associations hold an election when, in their opinion, deeming the board voted in by acclamation as appropriate. But, there is strong legal precedent to the contrary and association's would be remiss to follow this advice.
We have heard a number a number of reasons as to why some believe that a formal vote is not required.
Some say that the cost of holding an election is just not worth the expense if the board can be determined by way of acclamation. On its face, it would seem that holding an election where the board can be determined by acclamation seems reasonable.  The problem with this position, however, is that it overlooks the fact that an association already has to properly budget its money and time to be prepared to handle typical secret ballot elections, as secret ballot elections are a statutory requirement. And, of course, there is the directive that an association's elections ". . . shall be held by secret ballot . . ."
The language of the Civil Code mandating secret ballot elections weighs heavily against the concern some have over associations wasting their money. As mentioned above, an association should have money and time allocated to the election procedures irrespective of the number of candidates running for the Board.
Others have reported that the enforcement statute allows an association to rebut a claim if it can show by a preponderance of evidence that their decision not to abide by the law did not impact the outcome of the election; and therefore, it is unlikely that a homeowner would challenge an election that was handled by acclamation. However, this does not take into account the heavy burden it places on the association. For example, a homeowner may decide that they will run from the floor by self-nomination, if permitted by the governing documents. If a vote by acclamation forecloses that possibility, it could change a member's mind about how they would vote or if they would run for the board and place their name into nomination during the period of time when candidates must provide notice of their intention to run. In this situation, it would be difficult to prove that the entire membership was not impacted by the violation.
These are significant risks to proving that the election would not have been impacted. Associations can incur a $500 penalty fine per violation of the election rules and members bringing these suits can be awarded costs and attorney's fees, which is likely a substantially greater cost to the association than printing secret ballots, distributing them to the members and seeking either a volunteer Inspector or Election or retaining a company to perform those services for the association.  It is a better practice to do it right from the beginning. Especially when the court decides against the association, it will be forced to comply with the civil code and redo the election anyway.
Furthermore, complying with the statutory requirements seems fundamentally more important than the inconvenience of going through the election process. Whatever an association chooses to do regarding a potential election by acclamation, it is always best to consult with the association's legal counsel on the matter, if for no other reason than to get acclimated on the topic.
This article was originally published in May 2013. We have updated here as the law changed as of January 1, 2020 and we are receiving a lot of questions on this specific topic. The bill that changed the law in 2020, was SB 323. This bill incorporated the vote by acclamation for associations with over 6,000 units. Currently pending before the legislature is AB 502, which would remove the 6000-unit limitation. To read this new bill in full, please visit the state legislature's website.