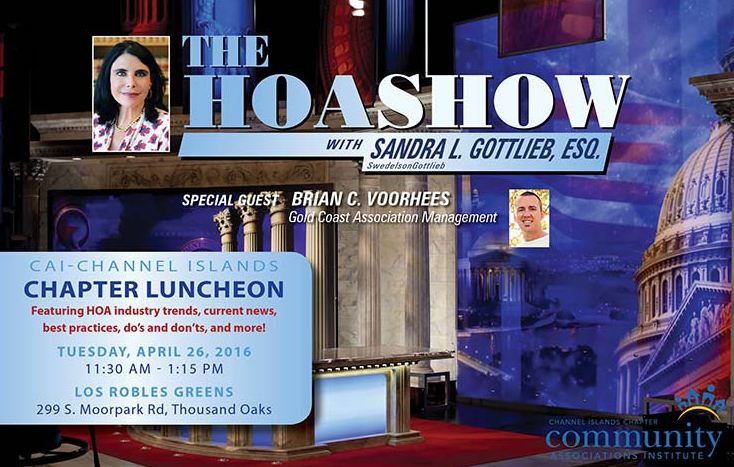 SwedelsonGottlieb's Senior Partner Sandra Gottlieb is honored to make another appearance on the second "episode" of The HOA Show, an educational luncheon presented by the Channel Islands Chapter of Community Associations Institute. Join us on April 26th for this fun format, where you can find out more about the following topics:
• Current events, trends and ideas occurring in the HOA industry and your communities • Is HOA living all negative? Navigating your way through Homeowner complaints, issues and demands.
• New industry developments & technology news: drones, electronic voting and dealing with issues of potential defamation on social media • Privacy Issues: Can members record a board meeting and use it as evidence against the board? Can boards enforce a "no recording" policy?
• How to apply new case law decisions to your associations: reasonable rules and regulations for rentals; selective enforcement and looking at pending legislation; attorneys attending open board meetings and ballot procedures for uncontested elections • Separating the roles, requirements and expectations of Managers and Boards: What Managers and Boards (should) each do • How committees can benefit a Community while protecting the Association from liability
Follow this link to register for the event! Thanks, we'll see you there.