Blog posting by SwedelsonGottlieb Senior Partner David Swedelson, Condo Lawyer and HOA Attorney
We have had to deal with our share of unauthorized playhouses in the past. And we have dealt with therapy pets in the past. But a therapy playhouse? Really!? As reported in Community Association Institute's FastTracks email newsletter, a Lexington, Kentucky family's legal battle with their homeowner's association over the right to keep their disabled son's "therapy playhouse" which was not approved by the association has "caused quite the stir, and is heating up as Kentucky's legislature and a non-profit advocacy group get involved with the dispute."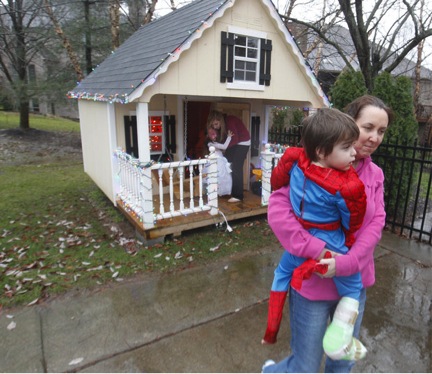 According to the Lexington Herald-Leader, the Veloudis family constructed the $5,000 playhouse in their side yard in April 2010 for their 3-year-old son, Cooper, who has limited mobility on the right side of his body and impaired speech due to cerebral palsy. The 12-foot by eight-foot structure, "recommended" by Cooper's doctor, has allegedly provided a way for him to practice his physical therapy, such as climbing stairs [Stairs? This is not a treehouse and see the photo; what stairs?]. His mother reports that the playhouse has dramatically helped increase her disabled son's mobility. [Comment: We understand the child has physical impairment/heath issues. However, he does not need a large playhouse to help with his climbing stairs, especially when there are no stairs and there are other options.]
The Veloudis family home is located at the Andover Forest Homeowners Association. The association says the playhouse violates its CC&Rs primarily because it was not approved. And it is not likely to be approved as it is large, and out of character with the neighborhood and the architectural standards. We can only assume that the board is concerned that if they allow this one playhouse, they would then be required to allow other owners to build their children playhouses as well. The article does point out that because other owners have swing sets, tree houses and other play structures on their property, the Veloudises thought their playhouse would be acceptable. However, their child's playhouse is considered a detached enclosed structure, which isn't permitted by the association and, in any event, the Veloudises never asked the board for permission to build the playhouse; it is not the same as a swing set.
After the association started levying a fine on the Veloudises in the sum of $50 for every day the playhouse was left up, the Veloudises requested a hearing before the board, where, it is reported, the family's attorney argued that prohibiting the playhouse was a violation of the Americans with Disabilities Act (ADA). [Comment: In California, community associations have been determined not to be subject to the ADA. That said, such a request should be considered as a request for a "reasonable accommodation" for the child's disability. Based on the facts as reported, it does not appear the Veloudis family would be entitled to their requested accommodation as there are plenty of other options open to them instead of a large playhouse and there was no indication as to why the playhouse was needed as part of the accommodation when other equipment similar to the permitted swing sets could have been have been installed. And is the playhouse really necessary for the child to be able to reside at the home (one of the fair housing requirements)?]
The board at Andover Forest Homeowners Association is reportedly "reconsidering" its position on the playhouse. And despite their association's resistance to allowing the playhouse to remain, the Veloudises are still fighting for their son's playhouse. The Lexington Herald-Leader reports that the story has gained widespread attention, and many have voiced their support for the Veloudises, including the nonprofit advocacy group Drums and Disabilities (DAD) and two Kentucky state representatives.
DAD filed a complaint with the U.S. Department of Justice earlier this month against the Andover Forest Homeowners Association, alleging the board is violating the child's civil rights by denying him his playhouse. The organization also expects to file a lawsuit alleging a fair housing violation against the organization on the child's behalf.
Two Kentucky state representatives also offered their help to the Veloudises by drafting legislation, House Bill 160, that would make it illegal for deed restrictions that hinder residents from having structures on their property that are deemed medically necessary for children 12 years and under (I did not see where the doctor said that the playhouse was medically necessary; the reports say that he "recommended" the playhouse). The bill is currently pending in the Kentucky General Assembly. (And some people think that the California legislature is always overreaching…)
Have questions about architectural issues at your California homeowners association? Comments regarding this blog posting? David Swedelson can be contacted via email: dcs@sghoalaw.com