By Sandra L. Gottlieb, Esq., Senior Partner, SwedelsonGottlieb
On July 11, 2011, the City of Pasadena passed a "no-smoking" ordinance for multi-family homes, defined as two or more units, applicable to both those now existing and to be built, effective January 1, 2012. The ordinance provides that it will be unlawful to smoke in any common area (broadly defined in the statute to include all areas other than a unit), patio, balcony or inside a unit within any multi-family building, and yes, this applies to condominiums.
As of January 1, 2012, owners and/or their community managers must post "No Smoking" signs, in capital letters, not less than one inch in height, on a contrasting background or, as an alternative, the association may post the international "no smoking" symbol instead of the written words, in the common areas of the association's building(s) at first floor entrances and exits, lobbies, restrooms and elevators. The international "no smoking" symbol consists of a picture of a burning cigarette enclosed in a red circle with a red bar across it: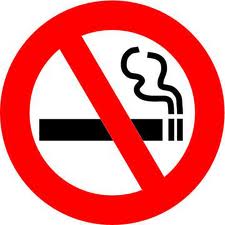 Further, effective January 1, 2012, all leases, rental agreements and purchase agreements (new or renewed, and this will apply to condominium associations and planned developments) must refer to the prohibition language in the ordinance and must provide a copy of the ordinance to the person or entity with whom they are contracting.
The actual enforcement of this ordinance will commence on July 1, 2013 and prohibit smokers from not only smoking on association common areas, but also within their condominium, which includes townhomes and, as it applies to non-association properties as well, rental and owned apartments. The ordinance will be enforced by the City, not by the associations.
If you are selling a home (unit condominium, townhome, etc.), you must include a reference to the "no smoking" ordinance in your purchase agreement, as well as include a copy of the ordinance. (Ordinance Section 8.78.080 Posting of Signs, and Section 8.78.085 Reduction of Drifting Tobacco Smoke in Multi-Unit Housing). Follow this link to view these ordinances.
As a final comment, the last sentence of the ordinance provides that "an owner, operator, manager, landlord, homeowners' association or other person having control of a multi-unit housing unit shall post signs as required by Section 8.78.080; however, said persons may, but are not hereby required, to assist with enforcing the provisions of this section and shall not be deemed in violation of this section by failure to assist in its enforcement." Fortunately, this clarifies that the City is not expecting homeowners associations to enforce the ordinance. It is imperative that Boards of Directors understand the extent and limits of their associations' obligations and not take on the enforcement obligations of the City.
Sandra Gottlieb can be contacted at slg@sghoalaw.com.