By: The Attorneys at SwedelsonGottlieb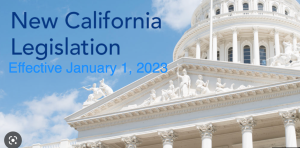 As it does just about every year, the California Legislature has made changes to the law impacting community association's statewide. This article covers those changes effective January 1, 2023 and other recent changes in the law that are worthy of being mentioned, as they may apply to your California community association. We have included examples of the application of the new law.
Outline of what is covered in this article:
AB 1410 – Social Media and Rental Restrictions
AB 2863 – Green Building Standards
AB 2097 – Removal of Mandatory Parking Minimums
AB 2011 & SB 6 – Expected New Affordable Housing and Housing Where Previously Not Allowed
AB 2221 & SB 897 – Easing the Process for Creating ADUs
AB 1738 & AB 2075 – New Building Code Standards for Electric Vehicle Charging Stations
Existing Law: SB 326 – Balcony Bill
To read this article, follow this link.